Providing Service Dogs to Children & Veterans.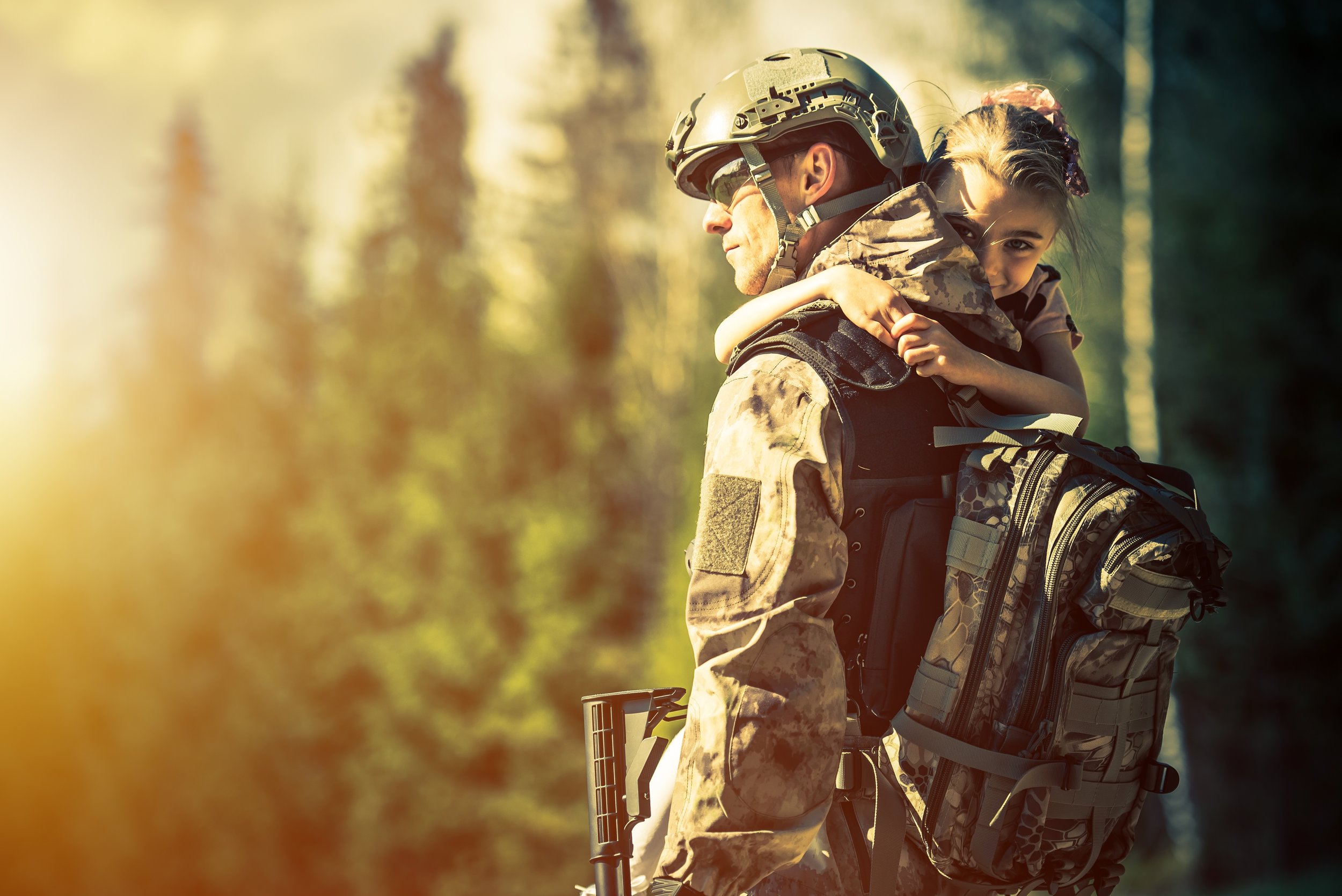 Setting Standards in the Community.
Support for Veterans
We supply, at NO COST, highly trained Service Dogs for Veterans with Post Traumatic Stress Disorder, Traumatic Brain Injury, Military Sexual Trauma, and Mobility Assistance. You can apply online. Keep reading to learn how.
Support for Children
Epilepsy can rob a child of a normal life, but a properly trained Service Dog can often restore independence. Autism can take its toll on the entire family; a highly trained Service Dog can help reduce stress and add another dimension in care. Keep reading to learn how to apply.
Built for Success
We are full-time professional dog trainers with a facility to support 'bred for purpose' dogs, all the way through placement with a handler. We don't do random pairings, we match dogs to their handlers.
Become a Puppy Raiser
Our breeding program is proven and effective. Our Labradors, German Shepherd Dogs are clear headed and willing to work. We need loving homes to raise puppies from 6-months until about 1-year old.
Restoring Hope
& Freedom to Those
Who Fought for Ours.
22 United States Military Veterans will commit suicide within the next 24-hours. Can you live with that? Make a difference. Help us STOP22.
Annual Report
2018 in review...
In 2018, Pawsitive Love Foundation launched its first calendar year. After our Q3-2017 start, we jumped into the new year with both feet, and what an amazing year it has been. While the foundation was new, our business is not. We have been a staple in the community for several years. In fact, our training facility - What's Up Dog? won "Best in Destin" honors for 2018.

Even with a major hurricane bringing mass devastation to our region, it was a very productive year. We are dedicated to changing lives … one dog at a time.
We are grateful to all of our sponsors.
Rob Fry and his PLF-K9, Liberty
Hailey and her PLF-K9, Finley
At 17 years old, Hailey was feeling as though her life was being stripped away from her. She was having 2 or more grand mal seizures every week. One of her father's friends heard about the work PLF was doing and encouraged them to apply for a dog. It turned out that Hailey was a good candidate, and we found the perfect dog to suit her.
Finley, the brother of Phoenix - another PLF-K9, was put to task to start learning new behaviors specifically for Hailey. He would need to learn how to let someone know that Hailey was having a seizure, and to keep Hailey safe from harm until help arrived. Finley took to the work beautifully.
After a year of training, Finley was flown to Santa Maria, California to train with Hailey. Up until this point, he only knew the scent of her through articles of clothing we used to imprint her odor with him. We used clothing that was worn while having a seizure, and clothing worn at normal times. We were able to teach Finley when Hailey needed him the most. While we are not able to train a dog to alert to the onset of the seizure, but we can certainly train them to respond to the actual seizure.
Finley learned to respond to a seizure by barking, to roll her to her side - and to watch over her until help arrived. Hailey had to pass a few tests of her own while training, too. She needed to learn about advanced obedience and public access, along with the task work. She made it look easy, because she was dedicated to regaining her independence and freedom. She wanted, more than anything, to be 'normal' again.
Hailey is now attending high school with her friends, and she is allowed to go to the store, coffee shop, and the movies like a normal teenager.
Success Stories
This is a brotherhood, a sisterhood, that few understand.
PLF is committed to serve those with a need for a highly trained dog; bred, raised, and trained to mitigate tasks for Military Veterans with PTSD, TBI, MST, and Mobility issues & Children with Epilepsy and Autism. Below are just a couple of our success stories.
When we first met Naval Commander Robert Fry there was some tension in the air. He came in frustrated, belittled, lied to, and unsure of how some guy who never served in the military would be able to help him. He showed up based on a referral; it was his last attempt before throwing in the towel on getting a 'so-called' service dog. Rob already had a dog, Gracie, that he purchased as a puppy. Sure, Gracie was a great dog - until she wasn't. She was still Rob's best friend, and he didn't want to hear that she was broken or unfit, certainly not since everyone else told him that she was capable, but none were able to produce what he needed out of her. None had a clear idea of what to do with her since she was so attached to Rob. Steve told him she wasn't broken beyond repair, but that she likely wouldn't be a Service Dog. Rob didn't want to hear this either. It kind of made him mad. We are pretty sure he got some sense of satisfaction knowing that Gracie bit Steve, more than once.
Steve and his team were put to task to clean up some issues that Gracie had, so that if she couldn't be a Service Dog, she could at least be a better dog around the house. We accomplished the task at hand, but Gracie was not going to be a Service Dog. We loaned Rob a dog named Sasha one day while he was having a rough go of it. What happened next was nothing short of a miracle. A miracle that Steve knew would happen, if Rob would allow Sasha in. She alerted to a seizure. Then another. She was doing something we only wish we could train.
We asked Rob if he would consider keeping Sasha. His response was something along the lines of, "I don't think I would try taking her away from me." To be fair to Rob, we must note that he and Steve have truly become best of friends; and, Rob's wife, Carrie, now serves on the Board of Directors for PLF. They are both quite active with the Foundation.
Not long after taking her in, Rob gave Sasha a new name… Liberty Bell. Today, life is different for Rob in many ways. Gracie lives on a beautiful farm with a family and a pack of dogs that she fits in with beautifully. There is nowhere that Liberty doesn't go with Rob. She attended the Warrior Games and alerted to a seizure while Rob was competing in a swimming event; she saved his life that day. It was an ordinary day for her, but for Rob it was a day he will never forget.
Because our dogs are adaptable, and because invisible wounds are subject to change, it was not a surprise how quickly Liberty learned to function with Rob in a wheelchair, and other changes he has gone through. There is no doubt they are connected, and they were meant for one another. Liberty was named so because she has given Rob the FREEDOM that he never expected to regain.
"Three years ago, I would've told you service dogs were bunk...just a way for people to take their pets out. But a dog who is trained to perform these specific tasks is actually an extension of that person - a prosthetic."
— Rob Fry, Unleash Jacksonville Publication #17
HOVER OVER IMAGE FOR DESCRIPTION
Sponsor a Campaign
If you would like to sponsor a specific campaign, you can do so here. You can also make a General Donation to the program. If you would like to make a General Donation in the name of a loved one, please do so by dropping us a note on the donation memo. Our mission only stays alive with your support. We are 100% self-funded, and all of our dogs are placed fully equipped at absolutely no cost to the recipients.
Adaptive Play & Training Center
We are constructing an Adaptive Play & Training Center for Service Dogs of Veterans and Children. We believe this will give them a safe alternative to play, continue learning, continue bonding while giving the dog much needed play time; all without problematic environmental issues like untrained dogs and people . More information →
Bred for Purpose Breeding Program
As a top quality breeder, we know the importance of good genetics. We still support our local shelter and rescue programs, but rescues are far less reliable as Service Dogs according to several published reports, and our own experience. We want to give our clients the very best, and believe a well-bred dog is often a better choice . More information →